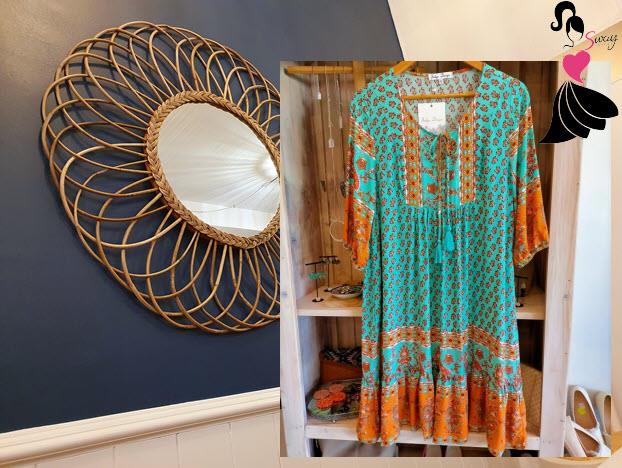 Disappointed by modern fashion but not a hippie either?
Tuesday, August 17, 2021
Boho women's clothes are best for Bribie Island ladies
Have you every wondered why you've worked your way through fashion shop after fashion shop but never find the right match for your taste? Chances are you're part of an ever-growing trend towards Bohemian style clothes.
Boho fashion started over 200 years ago in France from a desire to dress in an alternative style not worn by the rich & wealthy classes. Often attributed to the creative arts culture, this exotic theme based itself on choosing unpopular and second-hand used garments, with the final ensemble challenging the traditional notions of society's norms.
Lovers of Boho were motivated by the history of their clothes along & how they represent a counterculture proposing a lifestyle of creativity, frugality & eco-awareness. Once could almost call them our first greenies.
Bohemian clothes are loose fitting, colourful, and represent an artistic expression of individualism, leaving the popular fashion outfits of the day to the well-heeled classes. Careful planning of outfits and accessories was a must so that the wearer became a living statement for their beliefs of minimalism & enlightenment.
In the mid 1800's the French Bohemians incorporated past cultures into their evolving style, including middle eastern & medieval influences. The trend saw long hair preferred over the short back & sides, wide brimmed hats softly enveloping the wearer's head & colour become the hero of the alternate outfits.
During the 1900's the Bohemian lifestyle was taken up by those who no longer saw value in the stoic & formal Victorian lifestyle. They chose organic fabrics & natural fibres over mass produced synthetic materials. Hand woven & hand sewn were highly desired and seen as a way of rejecting the lack of personal creativity offered by the fashion houses of the era.
At Sway on Bribie, we love our colourful fashions & stock plenty of styles to satisfy your inner artistic streak. Our natural fibre range includes linen, silk & cotton garments, perfect for our subtropical coastal climate on Moreton Bay. And we stock an exciting range of Boho clothing on Bribie Island in our popular Bongaree Village shopping centre fashion boutique. There are plenty of accessories to match with your fashion outfit including Louenhide handbags, clutches, purses, wallets, chunky beaded jewellery & earrings. Plus you'll love our range of comfy casual footwear perfect for dining out on the east coast of Moreton Bay.
Drop in today for the latest fashion news & ask Lisa & her team for the best women's clothing tips on Bribie Island.