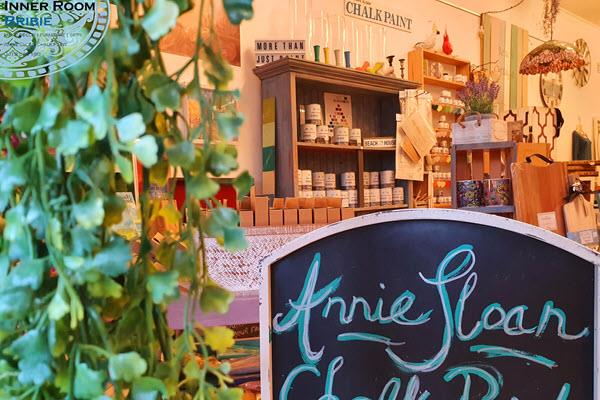 Completing jobs around the home this holiday season
Wednesday, September 22, 2021
Time to spring clean the house ready for summer time.
Got you list of chores ready for the school holiday break?
It's ironic that we take time of work to then do work at home! Plenty of chores appear on the never ending list of things to do at your Bribie Island property.
Can we recommend that the first stop on your home shopping list is a visit to local home interior & deco store Inner Room Bribie? Paula & her team have a range of items on sale in their west coast Bribie Island shop that will help you create a relaxing coastal experience in Moreton Bay.
Need to freshen up the furniture? Come discover the simplicity of Annie Sloan Chalk Paint, perfect for upcycling your old table setting in today's colour palate. Anne wanted something quick & simple to do while the kids were occupied at school & so she created her range of easy application paints that stick to almost anything. Preparation is simple – wipe your furniture free of any loose paint & dust & then start painting. Our local home goods store has the full range of paint colours & accessories including natural fibre brushes, sanding pads, finishing waxes & clear lacquer too. Clean up is a breeze as all products only need a rinse in water.
Dress up your cupboards from our furniture store department with beautifully crafted doorknobs from our big range of do-it-yourself accessories. Plenty of choices for all tastes.
Browse through our selection of feature crockery & decor products, designed to freshen up your home's interior with minimal fuss. Perhaps a new vase with artificial flowers could be the perfect highlight for your kitchen table?
Love your natural fibre clothing? Our Bribie Island fashion shop has a range of stylish clothing sourced from ethical suppliers using eco-friendly manufacturing practices. Be kind to our planet & to your body by choosing to wear these timeless women's clothing garments. Slow fashion is designed to last across many seasons so you'll end up saving money too & reduce the volume of single-season fashion ending up on the second hand rags heap at your local opportunity shop.
And for the outdoor areas Grow Plant Nursery, your garden centre on the west coast of Bribie Island is located through the rear of our store, ready to dress up your garden with healthy plants and colourful garden ornaments & decor pots.
Find Inner Room Bribie in Bongaree Village shopping precinct, your local Bribie Island shopping centre overlooking the Pumicestone Channel, passage to the sparkling waters of Moreton Bay.