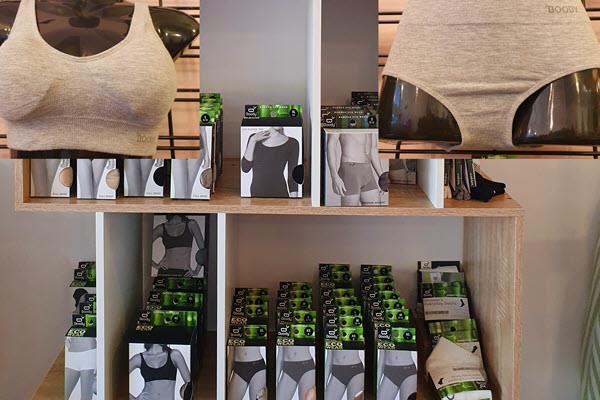 Eco-friendly fashion popularity grows at Sway, the Bribie women's clothing store
Thursday, March 24, 2022
Choose ladies slow fashion stockists in Moreton Bay Region.
Love to buy clothes? Prefer to buy sustainable clothing? Stay up to date on the latest fashion releases & care about how women's clothes are made? Then Boody is the perfect brand for you.
Boody is an Australian clothing design & production company that started small & has grown to now export eco-friendly garments to multiple overseas countries. Based in Sydney Australia, Boody is a believer of the "slow fashion" ethos where clothing is designed to last for more that the typical one season favoured by the well-known fashion houses. Slow fashion is all about bypassing the traditional trends & fads of the eco-unaware.
Their clothing range uses the humble bamboo, a long-neglected natural fibre source that has become a favourite base material on the renewable clothing scene.
Organically grown bamboo uses no pesticides or artificial fertilisers to keep our soils & waterways free from pollutants & excess nutrient runoff. Being a type of grass, bamboo grows quickly & its stems can be harvested multiple times which reduces its growing costs & the impact on surrounding environments.
Boody's bamboo suppliers only use rainwater to irrigate their crops & the manufacturing of the material consumes only recycled & reused water.
And during their manufacturing process, the factories use cutting edge computer knitting machines, resulting in seamless garments that have less material wastage.
Boody has achieved impressive eco-certifications including Ecocert, Fashion Forever Green Pact, PETA Approved, OEKO-TEX certified, & Certified B Corp wholistic production certification.
Superior comfort is assured through the use of the bamboo fibre. Did you know that bamboo material is naturally thermoregulating, hypoallergenic & breathable. Its fibres get softer & softer each time they're washed, & the natural gaps between the alignment of the fibres during weaving results in air being able to flow freely though the final garments. Plus bamboo fibres are absorbent & help disperse any moisture quickly, resulting in quick drying clothes in humid weather conditions.
Sway on Bribie is your local women's fashion boutique shop at Bribie Island's west coast shopping precinct, Bongaree Village. Lisa & her team love all types of coastal-inspired ladies wear, from bright, colourful floral patterns to more subdued single-colour outfits. They are your local stockist of Boody undergarments on Bribie Island & surrounding north Brisbane suburbs.
The women's clothing store is open 6 days a week from Monday to Saturday. Buy clothes at Sway on Bribie and let the team dress you up perfectly for your next adventure near the Pumicestone Channel, passage to our Moreton Bay playground.