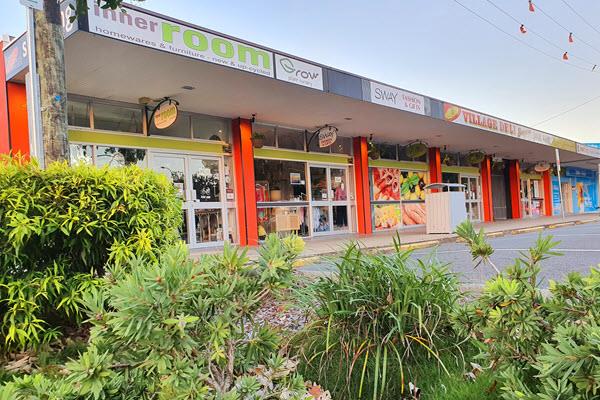 Ideas for keeping active during winter on Bribie Island
Tuesday, May 31, 2022
Coastal living shopping on Bribie Island's west coast
Bongaree Village is a compact shopping centre on the west coast of Bribie Island, just a 3-minute walk from the Bribie beach & landmark Bongaree jetty. There are plenty of shopping options in this beachside retail zone and our shopping village on Bribie Island has been part of the picture for many decades.
Sway on Bribie is a favourite ladies fashion boutique, selling women's clothing to the womenfolk in Bongaree, Banksia Beach, Woorim, White Patch, Bellara & Sandstone Point. Lisa and her team are well renowned for helping you look your best so pop in today & let them dress you for success.
Inner Room Bribie stocks coastal-inspired homewares that you don't find in the major department stores. Paula & her team are passionate about relevant home decor & will share their tips with you on how to dress up your home. And they are your local Moreton Bay region stockist on Brisbane's northside for the easy-to-use Annie Sloan Chalk Paints & accessories, the simple way to refresh your tired-looking furniture.
Village Deli Bongaree has been serving the locals coffee & munchies for almost 15 years. Peter, Britta & their team love all things gourmet and stock a select range of specialist food products. Take time out from your shopping trip & site down & have a cuppa & a bite to eat on your next visit.
Eco Village Hair salon has quickly become a favourite of the local shopper who wants their hair salon to care for the environment as much as they care for their clients. Sharon & her team of professionally trained hairdressers use only the best eco-friendly hair products and are experts at creating the perfect hair style for your lifestyle.
Grow Plant Nursery stocks a healthy range of native plants in their garden centre located at the rear of Bongaree Village shopping precinct. Access to Grow Nursery is via Inner Room Bribie, Village Deli Bongaree, and the Village Breezeway outdoor dining area. Darren & his team love their plants and proudly feed the nursery plants with Grow Organically's biodynamic liquid fertiliser. Experience the difference organic principles make to the resilience & hardiness of their range of garden plants. And find the perfect gift for your green thumb friend from their huge range of outdoor garden pots, art & ornaments.
For one of the best shopping experiences on Bribie Island's west coast, shop today at Bongaree Village shopping precinct.