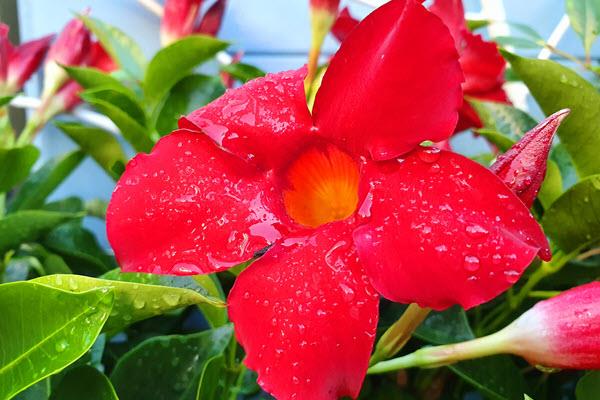 Dipladenia & Mandevilla – more choices for your garden.
Thursday, June 02, 2022
Hardy garden plants at Grow Plant Nursery Bribie Island
The weather forecast on Bribie Island is for cooler temperatures this winter season. This is often when our gardens about the house lose their colour but with careful plant selection you can keep your property looking a treat.
Dipladenia & Mandevilla are the perfect choice for our warmer winters in south-east Queensland. The first consideration when designing your garden for these plants is where to position them, based on their expected growth pattern, growth structure & lighting needs. Find areas of your yard where there is unobstructed morning sunshine for best flowering results but dappled light during the hot afternoon western sun. Choose well-draining soils of these plants as they don't like wet feet when you water them regularly.
Mandevilla are an enthusiastic climbing plant and need a support structure to train their growth upwards towards the canopy light. Some options could be a trellis against a brick wall, or a free-standing archway leading your visitors through to one of your garden rooms.
Dipladenia is more a bush structure with stems that hang downwards as they grow longer. Some ideas for containers could be hanging plant baskets or raised pots on the patio.
Feed your Dipladenia & Mandevilla regularly as they will deplete your soils of nutrients quickly. A great option is to choose an enviro-friendly liquid fertiliser like Grow Organically's biodynamic solution, a probiotic for your soil's microbiology's health. Grow Organically liquid fertiliser is pH-neutral and can be used on all your home plants with application being an easy, twice-weekly spray of the foliage. Buy yours at Grow Plant Nursery, your Moreton Bay region Bribie Island stockist of Grow Organically's liquid fertiliser. And when your container is empty, pop into our garden centre in Bongaree Village where we have a refill station ready to top up their eco-certified containers.
The Mandevilla flowers are trumpet-shaped & large, with red being the most common colour followed by pink, white, yellow. Tip prune regularly to encourage prolific flowering over the broad leaves of the plant.
Dipladenia leaves are slimmer & pointed, with smaller flowers but a greater selection of colours to better suit more gardeners' colour palette.
When you shop for plants that flower all year, make our west coast garden centre on Bribie Island, Grow Plant Nursery, your first choice for healthy hardy plants. We're at the rear of the shops in Bongaree Village shopping precinct, serving our customers in the suburbs of Bongaree, Woorim, Banksia Beach, Bellara & Sandstone Point.