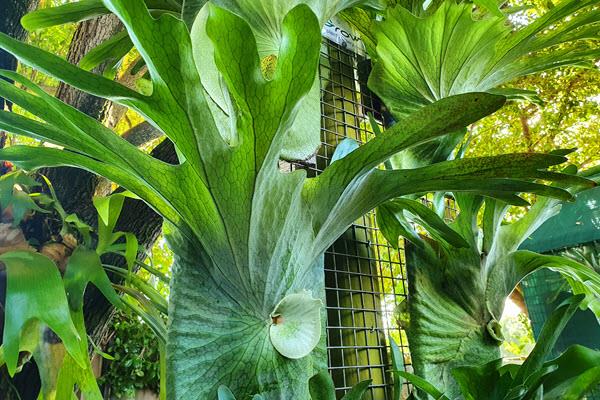 Staghorn or Elkhorn – Bribie Island garden shopping.
Thursday, June 02, 2022
Tropical plants at Grow Plant Nursery Bribie Island.
Bribie Island is the ideal location for day trip by visitors to south east Queensland. Connected to the mainland east coast by an 800+ metre bridge makes for easy access to the stunning west coast water sports playground on Bongaree. Here you'll find the best of bother worlds on offer. Kilometres of white, clean sand lining the many parks along the Pumicestone Channel. Find your own private picnic spot with handy play areas & well-maintained playground equipment.
Bongaree is the original settlement township on Bribie, with its scenic surroundings, foreshore coffee shops, cafes & restaurants, quaint shopping villages full of speciality stores, and plenty of affordable activities too.
But Bribie has more to offer, with lots of areas to get back to nature, including eco-cruises of the island's west coast precincts. Wetlands, pristine watercourses, birdwatching opportunities & beautiful coastal scenery.
Little wonder that many of the residents of our island in the Moreton Bay region love their gardens and take pride in creating their own scenic surroundings.
Grow Plant Nursery is a local Bribie Island garden centre on the west coast retail precinct has been serving the suburbs of Bongaree, Bellara, White Patch, Woorim, Bellara, Banksia Beach & Sandstone Point for many years.
Healthy staghorns are part of Grow Nursery's garden stock and are ideal for this coastal sub-tropic location.
Staghorn Platycerium grande are east coast epiphytic ferns, perfect for growing on tree branches, feature logs and walls. They need to be protected from sunlight so choose a shaded location with dappled sunshine. In summer they need to be kept moist without being waterlogged so a weekly spray with the garden hose is recommended. In winter reduce watering to every second week.
Staghorns source their nutrients from falling leaves & insects that are caught up in their older dead fronds at the rear of the plant. An infrequent dried out banana peel can be added to this catchment if a potassium deficiency is identified. Otherwise, an occasional spay with Grow Organically liquid fertiliser will be sufficient to add the complement the microbiome of the plant's catchment. This fertiliser is pH neutral & is perfect for all your home garden plants. Buy your hardy Staghorns today from Grow Plant Nursery, your west coast Bribie Island garden centre in Bongaree Village shopping precinct.