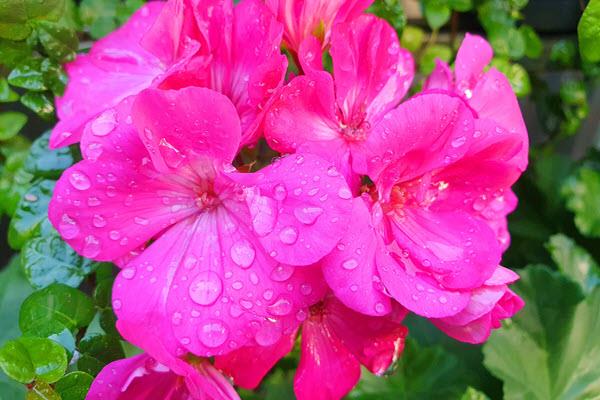 Pelargoniums & Geraniums – the Geraniaceae family mix.
Friday, June 03, 2022
Grow flowering plants of yesteryear on Bribie Island.
Do you regularly take a break to smell the roses of life & remember the beautiful gardens of your grandparents who child-minded you while your parents were at work? Chances are they had an array of geranium plants flowering in the garden near the doorway.
What most of us didn't realise is that most plants that we call geraniums are really pelargoniums. However, both these genera are part of the Geraniaceae family and are hardy plants that cope with dry climate yet still look lush & healthy. Their stems will tend to get too elongated during the warmer growing season so it's best to plan a good pruning (up to half the plant size) at the end of their flowering season in Autumn. Once Spring comes around the geranium will rebound with vigorous new growth and bountiful explosions of stunning, 5-petal flowers, including pink, red, purple and white varieties.
When choosing the right location to plant your geraniums/ pelargoniums, select areas of the home garden that have at least 5 hours of direct sunlight from the east & north each day. Avoid areas that are prone to super-heating from the western sun though as this will burn the foliage & flowers.
Geraniums/ pelargoniums don't like wet feet so you'll need to ensure that the soil is well-draining, which shouldn't be an issue as most of Bribie Island is a sand island raised above Moreton Bay. Use lots of natural compost to build up the ecosystem in your garden beds & give your plantings a great head start. Grow Plant Nursery in Bongaree Village is your stockist of the eco-certified Grow Organically liquid fertiliser, a natural probiotic for your garden soil microbiology. Our garden centre on the west coast of Bribie Island stocks enviro-friendly fertiliser & also has a refill station for when your Grow Organically-supplied container gets low.
Even though geraniums are drought-tolerant, water them regularly to encourage more prolific flowering. And during their flowing season, take time to remove the dead flowers to encourage the plants to produce more colourful blooms.
Grow Plant Nursery is located at the rear of Bongaree Village shopping precinct in First Avenue Bongaree, on Bribie Island's west coast, where you'll find plenty of excellent value speciality stores & perfect vantage points for sunsets across the Pumicestone Channel, passage to Moreton Bay.