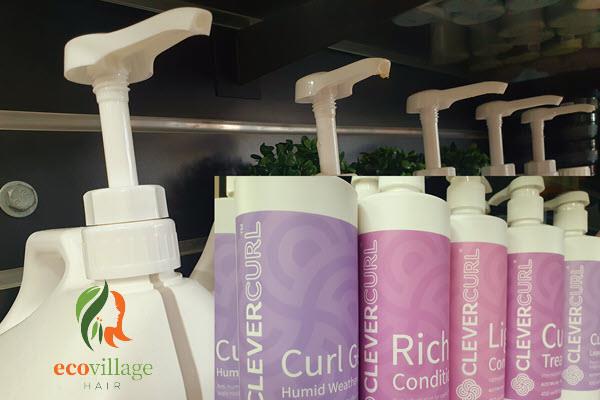 Australian made & Australian owned hair care is better.
Monday, August 23, 2021
Eco-friendly hair care is simple with reusable bottles.
Love looking your best when stepping out in style but want to be sure you are doing the right thing for our planet?
Eco Village Hair salon in Bongaree Village shopping precinct is an active part of the growing family of small businesses on Bribie Island who care about our environment & support sustainable practices.
Located on the west coast of Bribie Island & only several hundred metres from the sparling waters of the Pumicestone Channel passage to Moreton Bay, our team of professional hairdressers understand why we need to keep improving our techniques & reduce our negative impact on our beautiful surrounds.
At Eco Village salon, each time we cut your hair, colour & style your long locks and wash & rinse your hairdo, we are aiming to minimise any harmful chemicals from being discharged into our precious waters. We actively scout & buy from those hairdresser supply companies that align with our moral compass & EverEscents Organic Hair Care is a welcome part of our retail team.
EverEscents has been operating in the hinterland Sunshine Coast QLD region for more than 12 years, creating & manufacturing cutting edge hair care products in their own Certified Organic factory. They specialise in sourcing safe ingredients produced using creative thinking & problem solving, to meet their high ethical production standards. Their ISO accredited factory is 100% solar powered, as is their sales office & warehouse, another example of their commitment to reducing harmful impacts on our lands & waterways.
Our Bribie hairdressers proudly use & recommend their range of Certified Cruelty Free products of which most are also Vegan Friendly.
And to help keep as much plastic out of the environment as possible, we offer the convenience of a fully stocked refill station for your Clever Curl hair care essentials. Just bring in your empty Clever Curl bottles & we will refill them for you at a cheaper price than buying a new bottle of product. It's better for both your purse & our environment.
We proudly choose the TrueEcoColour range for colouring your hair to the perfect natural tones of your body.
On our store's shelves you'll also find Eco Style Project items for your hair in including pomade, putty, hairspray & dry shampoo.
The next time you need to book in for a hair appointment, choose our hair salon on Bribie Island & experience our passion for ultimate hair care coupled with real passion for our delicate environment.