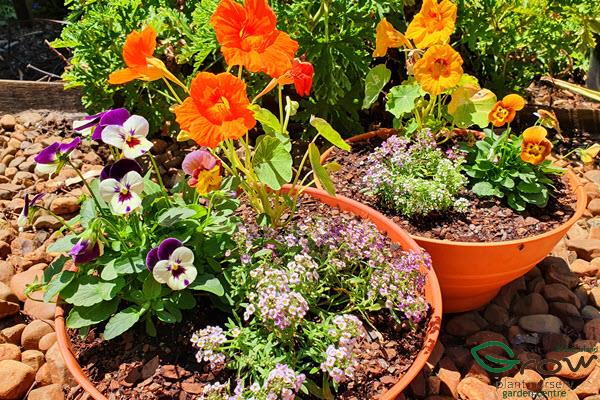 Bribie shops at Grow Plant Nursery for edible flowers
Saturday, October 10, 2020
Looking for tips on how to spice up your home cooking with home-grown foliage?
Tired of your food looking the same day after day? Time to design an edible garden for home and add colour to both your outdoor spaces and your meals.
Not all flowers are edible so the first step is to do your research and consult reputable plant nurseries for helpful advice. Use plants that will flower in different seasons so that you will always have some colour to add to your salads and lunches. Co-plant your edibles in the same bowl for ease of maintenance & harvesting. A window sill planter outside the kitchen window is a great idea.
A great choice for salads is the flowers of the Sweet Alyssum, which smell like honey. You can use seeds and spread them over a well-draining potting mix or plant up tube stock for a head-start. They need full to part sun and daily watering during the warmer months of the year. The small four-petal flowers cluster together in prolific explosions from Spring to Autumn and colour varieties include apricot, rose, white, lavender and pink.
Nasturtiums "Tropaeolum Majus" originate from Peru and are a must-have in your culinary plant selection. Their leaves bring a strong pepper taste to your salads & food dishes and all of the plant can be eaten, not just the flowers which are a milder & sweeter pepper taste. Their colours are more limited with only warmer yellows, reds & oranges available but they make a strong impact on the tastebuds. Plant tube stock in well-draining soils in full to part sun locations and water regularly.
And to round off your trifecta, try the delightfully delicious Violets "Viola odorata". These are hardy plants that will last several years in your edible garden but make sure they don't get baked by the hot western sun. The edible flowers are sweet to the palate so use them for dressing up cakes and deserts and wow your family & friends but remember to use them in your salads and breafasts too. To extend the life of its flowers you can dry them out and use them later to infuse their scent into sugars like castor & icing. You'll find the resulting flavour is a mild but enjoyable hint of the violet's scent.
There are plenty more edible flowers & plants that are easy to grow up in our coastal gardens and make out meal times so much more tasty & colourful so get growing and enjoy the fruits of your labour.
Grow Plant Nursery, you local Bribie Island garden centre, is located behind Village Deli Bongaree in Bongaree Village Shopping Precinct, just up the hill from the Bribie Jetty at 17 First Ave Bongaree. Enter via Inner Room Bribie 7 days a week.