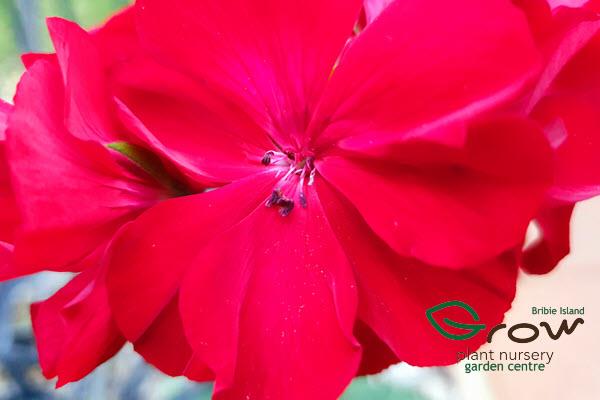 Classic flowers for coastal climates
Saturday, September 26, 2020
Need ideas for water-wise plants that thrive on Bribie Island?
Wondering what plants you should choose for around home that will flourish in our seaside locations in Queensland?
Geraniums & Pelargonium spp are members of the Geraniaceae family and are a popular choice perennial plant that don't require regular maintenance once they have taken root in your garden. They are known for providing an essential ingredient for herbal medicines, with some of the species producing beautiful aromatic oils used in fragrances & massage oils.
The long narrow fruits which are similar to a crane's long beak give rise to the plant's genus name of Geraniaceae. The Greek word geranos meaning crane, and the common name cranesbill describe the long thin fruit.
Geraniums suit a variety of conditions in temperate areas and excel in full sun to part sun locations. Use well-draining, moist humus-enriched soil. They grow best in hot dry conditions so only water them at the start of the day to give them a chance to dry out before sunset. If you need to conserve water, these drought-tolerant plants are a great choice to use.
Plant them out in your garden beds for powerful explosions of colour. If you have verandas around home, site them in pots or hanging baskets and watch them flourish. Give your rockeries extra interest by using different varieties – there are plenty of colour choices, and even the leaf shapes can be used for extra textural impact.
Geraniums will flower regularly through the warmer months but it's a good idea to give them a hard prune back at the end of summer when they have finished flowering. This may involve pruning the plant back to up to half its size. This will stop the plant becoming too leggy & sparse, instead concentrating the buds on the plant for the next flowering season.
Another great advantage of pruning is that you can propagate the cut off branches. Trim them down to less than 15cms in length and remove the leaves from one half. Let the ends dry out for a few days. Then pot them up and by following year you will have brand new plants to brighten up your gardens.
When planting your geraniums, make your hole twice as wide as the root ball, and the same depth as the heigh of the root ball. Backfill and press the soil firmly. Water well and use mulch around the base, leaving a gap between the trunk & the mulch. Water solidly one a week or increase to twice a week in the hotter months.
Geraniums will provide your garden with classic vistas of colour during spring & summer. Buy your geraniums from Bribie Island's popular local plant shop Grow Plant Nursery in Bongaree Village. We're at the rear of Village Deli Bongaree and our entry is via Inner Room Bribie. Phone 0480 160 689 for more gardening help.