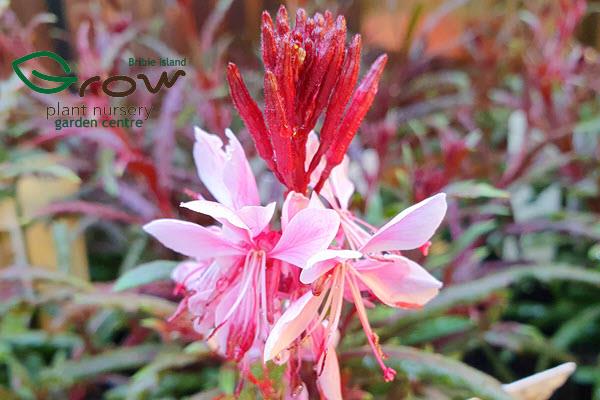 Colourful butterflies fluttering in your home's garden
Monday, September 28, 2020
Brighten up your garden with Gaura Lindheimeri – the Butterfly Bush
Designing a refresh of the garden for spring is easy at Grow Plant Nursery Bribie Island.
An all time favourite is Gaura Lindheimeri, the Butterly Bush.
This perennial plant is the perfect choice for our coastal environment conditions. The Butterfly Bush thrives in most soils types including clay bound earth, and is a hardy performer in water-wise gardens. Choose an open & sunny position and allow 0.5 – 1m height & width for each bush. They look brilliant in rockeries and terracotta pots, and as a feature around the borders of cottage gardens.
The genus name Gaura comes from the Greek language and means superb. The plant was given the more common description of the Butterly Bush due to the presence of four petalled flowers and their long stamens. In our cooling bay breezes the flowers flutter and resemble the ever-popular butterfly so plant them where you can relax and watch them fly in the afternoon winds. Flowering occurs constantly from Spring to Autumn.
Gaura Lindheimeri is a perennial with lance-shaped, leaves and leggy shoots so pruning in spring or after flowering finishes is a must to promote denser foliage. You can trim off up to 50% of the bush to help keep it compact & producing plentiful flowers.
For more garden inspirations visit our plant nursery gardens in Bongaree Village shopping precinct. For your convenience we are open 7 days a week.
Entry is though Inner Room Bribie and out the back of Village Deli Bongaree. For more advice call 0480 160 689