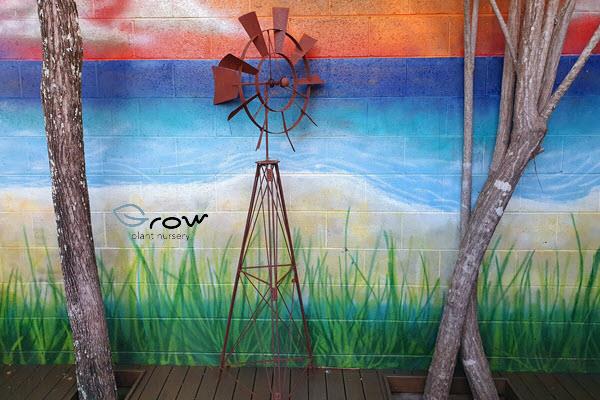 Garden centre sells traditional windmill garden decor.
Tuesday, August 31, 2021
Dress up your home gardens with style in Moreton Bay
Australia's outback region is vast, rugged and mainly arid climate with limited rainfall predicted & even less actually occurring. Other than the occasional northern Australian cyclone making its way south down the inland channel country the land offers up little permanent water supply for its occupants.
Back in the 1870's early settlers created a method of pumping the water from the underground aquifers using a large multi-vane head to drive a single-piston pump, all mounted on a wooden frame above the ground. As the years progressed the wooden frames were replaced by metal frames for longer durability and the more recognisable version of the outback windmill was born.
Early versions of windmills were found in the ancient Persia regions and from there the design made its way to the Chinese areas to satisfy their need of irrigating their vast tracts of crops. Steam power in the 19th century resulted in a significant reduction of windmills being built & operated, and likewise the arrival of the petrol & diesel fuelled motors further reduced their numbers.
However, outback Australia had very little infrastructure to service motorised water pumps so the wind operated versions continued to be employed in many states.
Southern Cross Mills became a mainstay of the windmill manufacturing industry with their style becoming a popular icon of the outback. Comet Windmills also produced significant volumes of windmills and due to their well-engineered design they took the title of Australia's Leading Mill with a widespread network of sellers spreading their product across the nation.
We city dwellers are proud of our outback cousins and admire their strength & resilience against the challenges that mother nature can produce. And we love our outback windmills, albeit a bit smaller in size & more decorative in nature.
At Grow Plant Nursery, a Bribie Island garden centre in Bongaree, we sell a range of decorative traditional windmills & whirly-gigs. A cornerstone of our product range is the rust-finished traditional windmill, perfect for dressing up your home gardens with a touch of Australia's bush beauty.
Our plant nursery on Bribie Island has plenty of other garden decor products ready to take home & style up your outdoor areas. You'll find our garden centre at the rear of Moreton Bay home decor store Inner Room Bribie & your local cafe Village Deli Bongaree.
Discover our relaxed retail experiences in Bongaree Village Shopping Precinct, a Bribie shopping centre just up First Avenue from the Bongaree Jetty & Pumicestone Channel, passage to Moreton Bay.