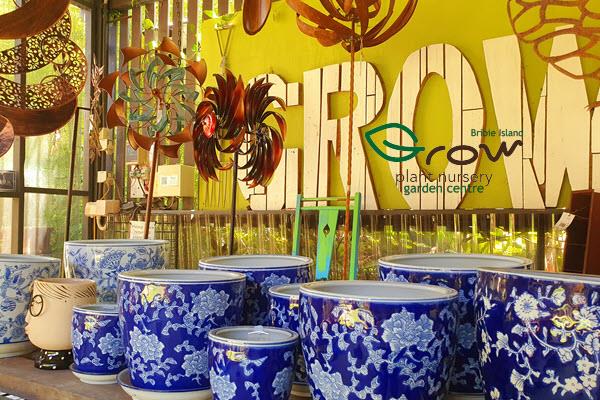 Garden shopping Bribie Island is easy at Grow Nursery
Sunday, November 01, 2020
Find the best garden accessories for your coastal home
Just like a Hollywood blockbuster movie needs brilliant scenery to help the actors to shine, so does your home garden need ornaments & statues to bring out its best.
Most of us adorn our home interiors with beautiful artefacts designed to enhance our experience of living and provide us with a sense of belonging but once we get to the doorway to the outside, we leave it to nature to dress the garden spaces.
Gardens vary in size & shape & cost but giving nature a help hand can be easy, and economical too. Firstly, what is the theme of your garden? Perhaps you've gone for a structured traditional English cottage garden with spongy green grass manicured to the millimetre, and plentiful bordered garden beds stocked with seasonal flower & herbs? And properly trimmed hedges for as far as the eye can see. A central oversized birdbath fountain with figuring provides a focus point that helps highlight the formality of this style.
Or are you a fan of Japanese gardens where the admirer is encouraged to quieten the soul and reflect of the art of living without distractions. Amongst the popular choices of Wisteria & Cherry blossoms, Japanese maples and Mondo grass, stone lanterns help ground the environment and enhance personal contemplation. Likewise, stone water bowls, Zen sand/gravel gardens and arching wooden bridges work in sympathy with nature's plantings to create a work of art that inspires us & motivates us to do better. And what better way to soothe the noise of mankind than to have a few carefully placed bamboo or metal windchimes softly playing their tunes in the gentle bay breezes.
The ancient Romans originally created their gardens as practical sources of food for their families. As time progressed they ventured into recreational gardening & also developed them as religious places, full of symbolism relevant to their beliefs of the era. And Chinese gardeners chose to dress up their gardens with scholar's rocks, naturally shaped rocks of various colours.
Today's gardener has many options to dress up their space using natural stone products, clay, terracotta and even resin items. Garden art has become very popular in recent decades and is affordable for all parts of society.
Grow Plant Nursery, your local Bribie garden centre in Bongaree Village shopping precinct, stocks a large range of popular garden ornament, pots, wall hangings and bird baths ideal for the modern home. Grow Nursery is located on the west coast in a favourite Bribie shopping centre, just up from the jetty and Pumicestone Channel in Moreton Bay. We're open 7 days behind your Bribie Island cafe Village Deli Bongaree and entry is via furniture store Inner Room Bribie.