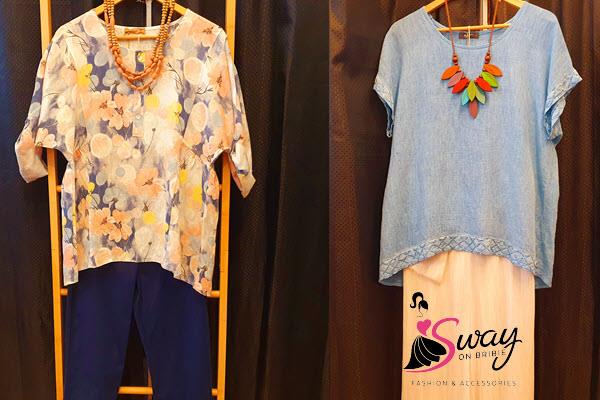 Moreton Bay region new season women's clothing tips
Tuesday, October 06, 2020
Want to look cool, comfortable & on-trend at your next event?
Are you particular about letting an Italian get close to your skin? Time to learn more about the eternal value of Linen, a natural fibre that has been used by humankind for thousands of years. There is evidence that it was present at lake homes during Switzerland in prehistoric times.
Linen is produced from the flax plant Linum Usitatissimum, an herbaceous annual which can be grown in a variety of climates. For plants used for the clothing industry fibres, linen is best grown in cool & moist regions. The fibre comes from the stalks of the plants and series of processes are used to end up with the desired fibres. First, water & microorganisms are used to dissolve away unwanted plant material from the flax stem fibres. Then they are dried out, followed by crushing & beating to release the fibres. The flax fibres are then woven into cloth, ready for use.
Fine linen clothing has even been found in Egyptian tombs, and it was the cloth of choice throughout Roman empire.
Linen is naturally a cream or white colour with a beautiful lustre, and is easy to dye due to its willingness to absorb & hold the dye colours. This characteristic helps make dyed linen colour-fast for a longer time than cotton or silk.
With spring now upon us and summer just around the corner, the true value of linen comes to the fore with its ability to breathe, allowing the wearer to stay cooler. The fibre is very absorbent and there is plenty of evidence showing that those who wear linen clothes perspire less than others who wear cotton or silk.
Sway on Bribie, your local Moreton Bay women's clothes boutique, stocks the on-trend range of Hot Ice ladies' garments including their La Strada & Promises range of clothing. Included in their stunning array of women's clothing are stylish Italian linen garments, made from Italian linen personally selected by their head La Strada designer Yueping Fenech.
If you love colourful, cool summer clothes on Bribie Island you need to shop today at Sway on Bribie fashion boutique, and find the on-point style that'll impress your family & friends.
You'll find our local Bribie Island clothing store in Bongaree Village shopping precinct, just up the hill from the Bribie Island jetty at 17 First Avenue Bongaree.