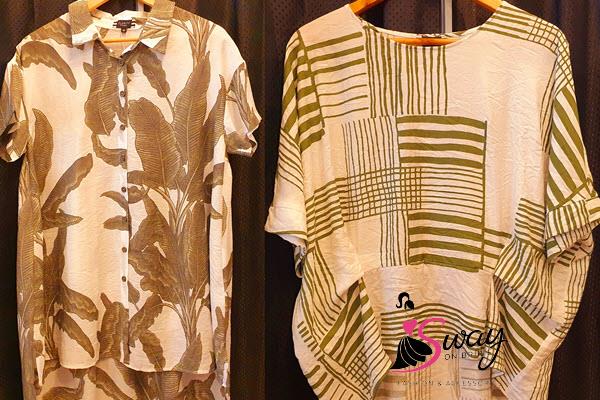 New season fashion tips for spring
Tuesday, September 29, 2020
Sway on Bribie Island stocks popular Threadz & Clarity ladies fashion clothing
Successful fashion dressing is easy when you apply some simple principles before you head out to the ladies clothing boutiques & fashion outlets.
Firstly, know & embrace your body type. If baggy clothes are your style then go for it. Perhaps you're a power-dresser and enjoy the clear-cut lines of business suits? Or you have a super model figure and love accenting the flow & curves of your body? Whatever your style, choose clothes that reflect your individual personality, as then you'll look more confident and feel more comfortable.
Try a classic cut straight leg or bootleg pant if you're unsure what type of jeans to wear. Darker colours & stonewash effects are more popular choice but feel free to experiment and create your own look that turns heads in the streets.
Consider complementary styled tops & bottoms in different colours and forms. A loose shirt top makes a great match with a snug fitting skirt. And select quality fabrics that will last the test of time. Classic threads like silk, linen & cotton have stood the test of time.
For the cooler months, one classic styled coat can work on so many levels for so many occasions, and save you money too.
In the warmer months, search out the natural fibres clothes first, They breathe better and keep you cooler in our muggy sub-tropical weather conditions. The long range forecast for this season is El Nino so linen and cotton will be your best comfort materials for these hot conditions.
Footwear should complement your clothing choices. Are you trying to extend your leg line & gain more height or do you need something more versatile for active duty. And remember to consider your posture too and look after your spine.
Select your accessories to accent your clothes. They should work together to create an overal story that wows the eye and fulfils the soul. Fashion is fun so experiment and be individual.
Sway on Bribie stocks a huge range of Threadz & Clarity, affordable fashion designed for women of all ages and sizes, from XS to XXXL (sizes 8-20). New fashion drops happen fortnightly so our local Bribie Island fashion outlet in Bongaree Village shopping precinct is being constantly refreshed with new season outfits from these popular fashion houses.