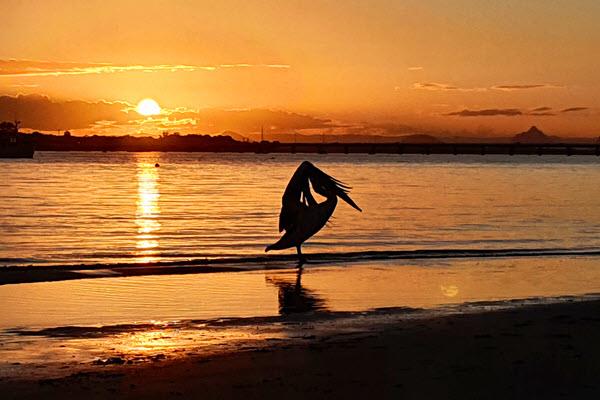 Wednesday, 26 January 2022 is Australia Day on Bribie.
Tuesday, January 11, 2022
How to celebrate the Moreton Bay long weekend holiday.
Just returned to work after the summer holidays and already longing for a quick break?
On January 26th 2022 take time out to head to Bribie Island's west coast and enjoy free activities in Brenan Park, presented by Moreton Bay Regional Council. Free music will be belting out of the park's grandstand event stage to keep you entertained as you cook up a hearty Australian lunch on the free electric barbeques dotted along the foreshore beach parklands.
Need a dose of retail therapy to make your Australia Day holiday week better? Bongaree is Bribie Island's premier west coast shopping precinct, full of excellent value speciality stores offering the best value in town. Explore the small business operators along Toorbul & Welsby Streets. And for more memorable shopping experiences, take the 2-minute walk up the gentle slope to Bongaree Village shopping precinct at 17 First Avenue Bongaree where you'll discover more exciting local retailers. Note that most small businesses will close only for the Public Holiday, including Village Deli Bongaree, Mayyada Bazaar, Bongaree Dental, Eco Village Hair, Sway on Bribie, Inner Room Bribie, Grow Plant Nursery, L J Aesthetics, Bribie Island Hospice shop, Bribie Doctors,
Inner Room Bribie is your local home decorating & gifting shop, bringing you all things coastal including natural fibre fashion for the ladies, inexpensive quality eco clothing from Nepal & the always popular Annie Sloan Chalk Paint range of paint products, perfect for getting you ready for the next refresh of your home's furniture.
Grow Plant Nursery & garden centre offers a healthy range of hardy plants well-suited to the south Queensland coastal weather conditions. Nourished by the scientifically proven Grow Organically biodynamic liquid fertiliser, their range of feature plants are lush & colourful. And take time to explore their range of garden art items & ornaments, either locally made or imported.
Need to bring out your Middle Eastern streak? Mayyada Bazaar are ready to offer you a world of alternative gifts, clothing & decor for the house. They stock alternative fashion from a Nepal fashion house and stock a range of products for around the home.
And to finish off the week's adventure, go back to Brenan Park where you'll have the perfect vantage point for sunset across the Pumicestone Channel, passage to Moreton Bay water sports & more. And when night has fallen, watch the starry evening sky light up with spectacular fireworks over the west coast waters.
This Australia Day, make tracks to Brenan Park, just down the hill from Bongaree Village, at Bribie Island's west coast playground town of Bongaree, QLD.